Pharmaceutical Tablet Press Machine RQ-ZP-20
ZP series 20 tablet press machine is the multi purpose torsion tablet pressing machinery created and manufactured by the RQ group workshop, with the characteristics of high pressure and high production speed. We have mademany great improvements in the variety, hygiene and safety maintenance of our products. The production speed of ZP20 can reach 42,000 pieces per hour.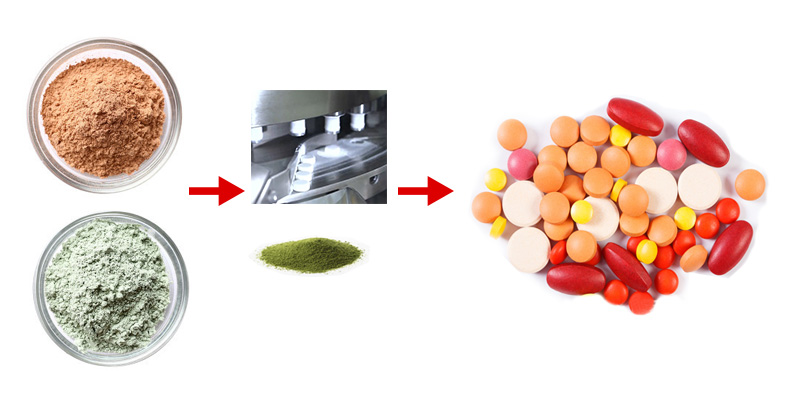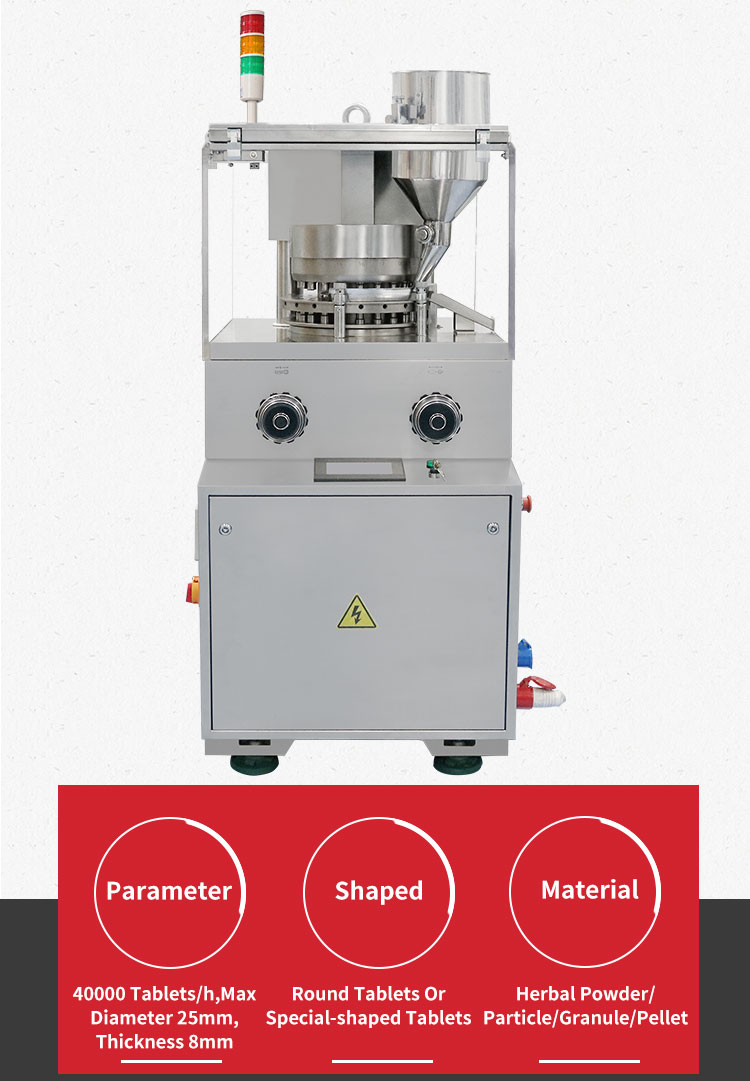 *** Technical parameter
| | |
| --- | --- |
| Name | ZP-20 tablet press machine |
| Production capacity | 40600 max pcs/hour |
| Max. pressure | 80KN |
| After warranty service | video technical support, Online support, Field maintenance and repairing. |
| Power | 380/220V 50Hz |
| Total power | 4.05KW |
*** High-quality work turntable of ZP20.
The ZP20 turntable is made of tried-and-tested cast iron.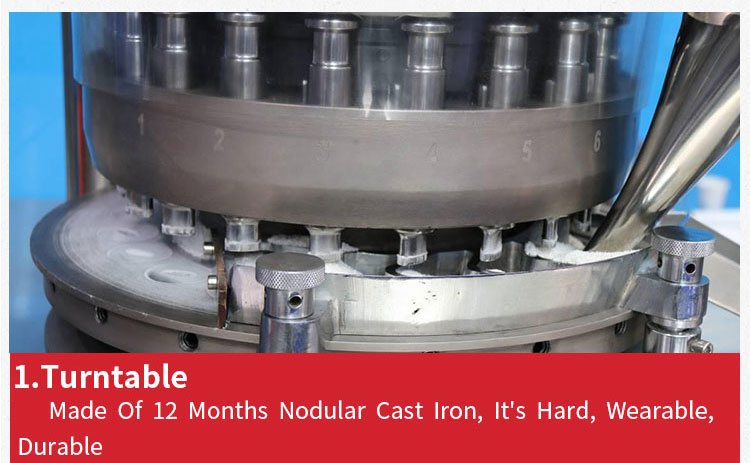 *** ZP20's Pre-pressed rail track.
Through this design ZP20 can achieve low power and high pressure production output.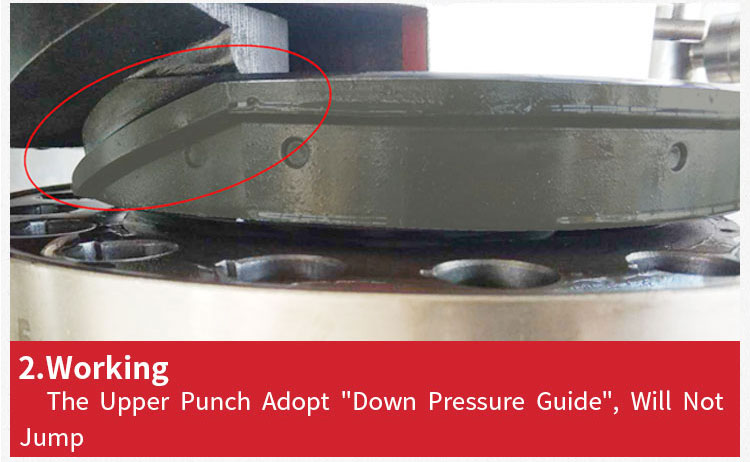 *** Production output of ZP20.
The overall ZP20 uses high-quality stainless steel material, so the finished product will not be polluted.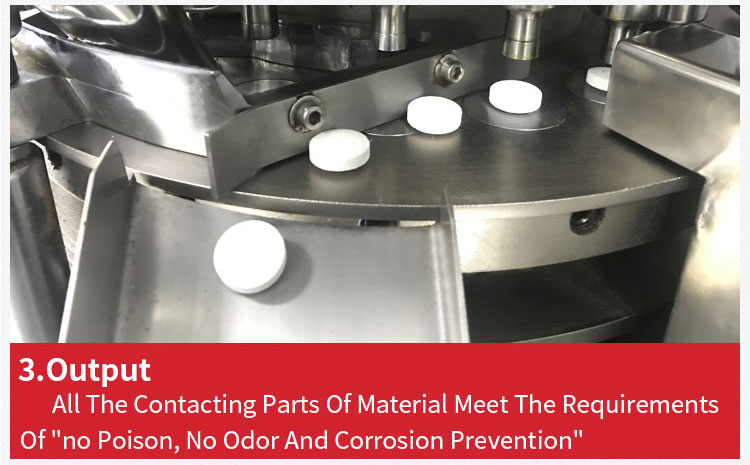 *** Certification: SGS, CE, ISO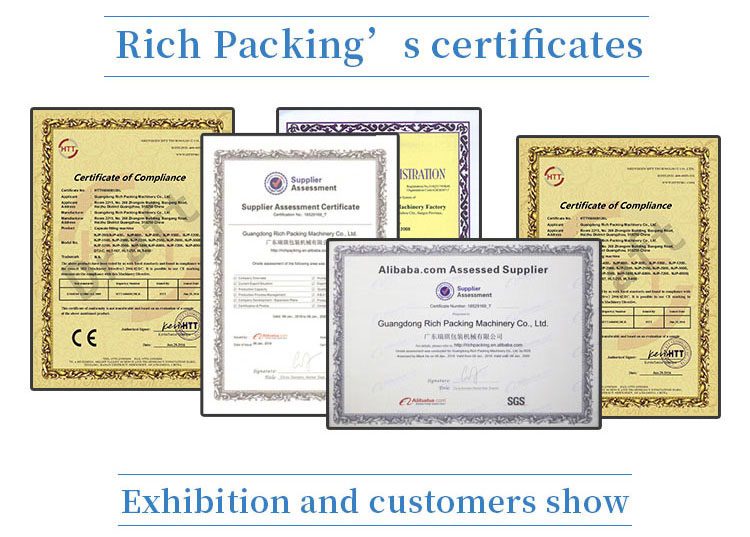 *** Why should choose our's ZP20 tablet press machine?
According to the different needs of customers, we can design different molds to realize various round tablets, triangular or rectangular tablets, and various animal-shaped petal-shaped special-shaped tablets can also be manufactured.
The operating power of this ZP20 tablet press machine is generally tested at 4KW, and the number of upper and lower molds used is 20, which means that the tablet press can produce 20 tablets in one revolution. The maximum working pressure of the ZP20 tablet press is 80KN, so it has a very wide range of applications. The finished tablets manufactured are also very high-end, the surface is very smooth and quite compact.
The whole ZP20 tablet press is wrapped by high-quality 304 stainless steel. According to customer needs, we can also customize 316 stainless steel for customers.
The core turntable of the tablet press is made of long-term cast iron, which can achieve long-term work without errors.
In the process of making tablets, some material powder will be produced. In response to this situation and meeting the requirements of GMP production standards, we have added a high-power vacuum cleaner to the ZP20 tablet press to ensure that the turntable is always clean.