ZH 120L Automatic Packing Cartoning Machine By Rich Packing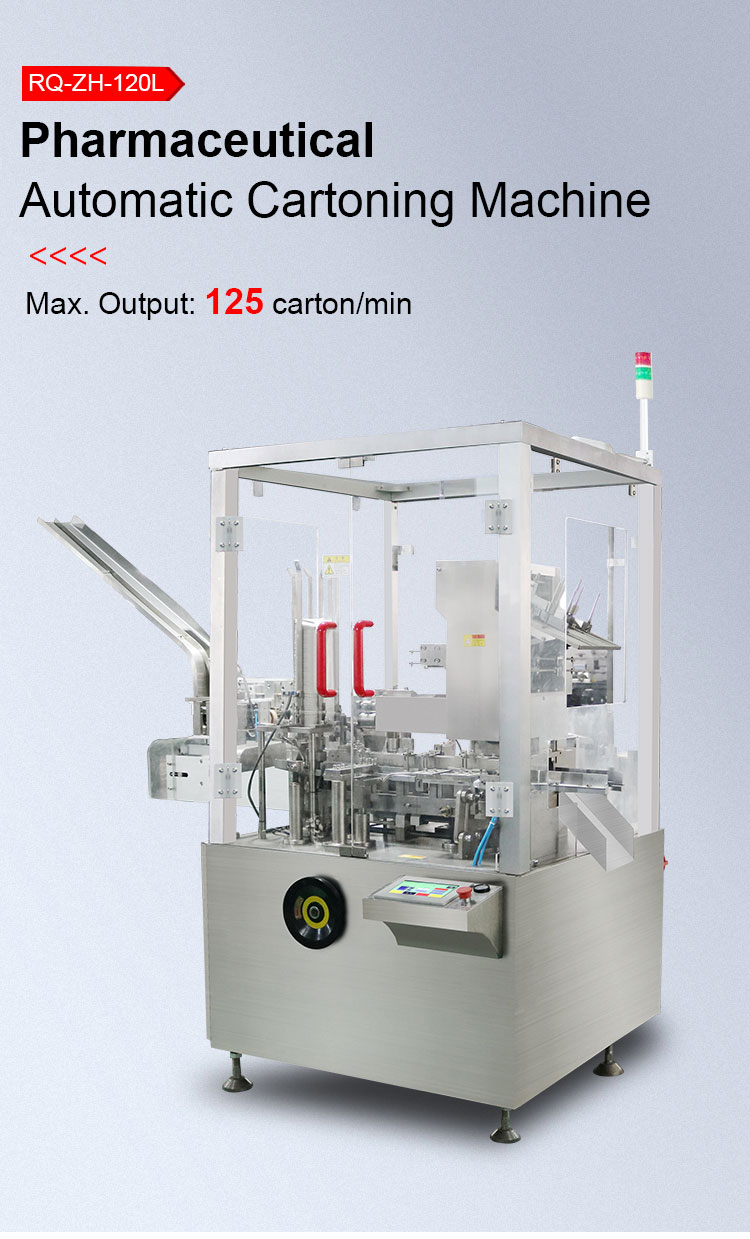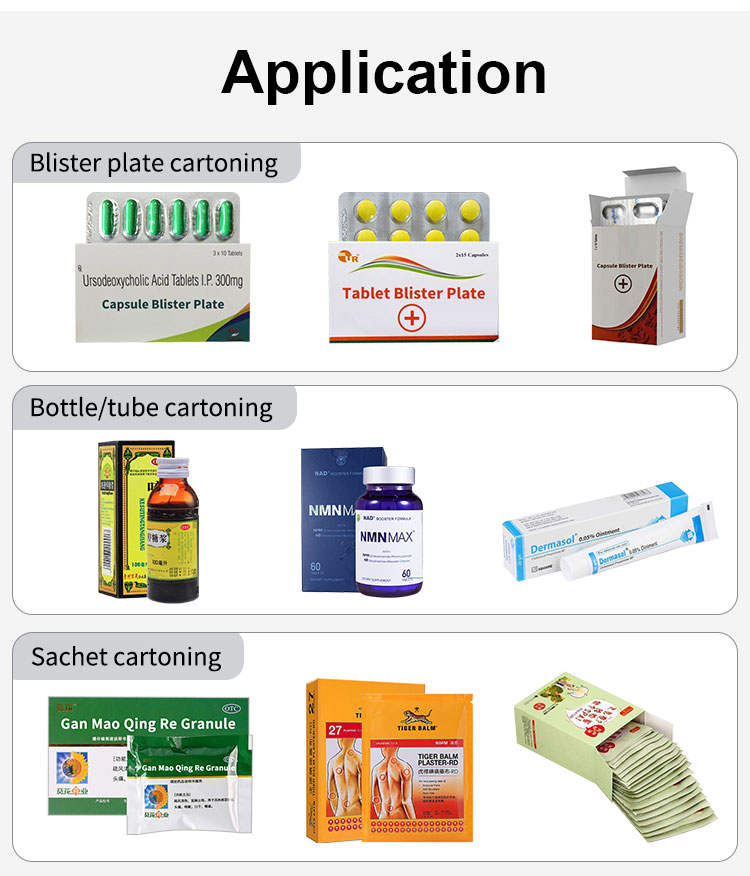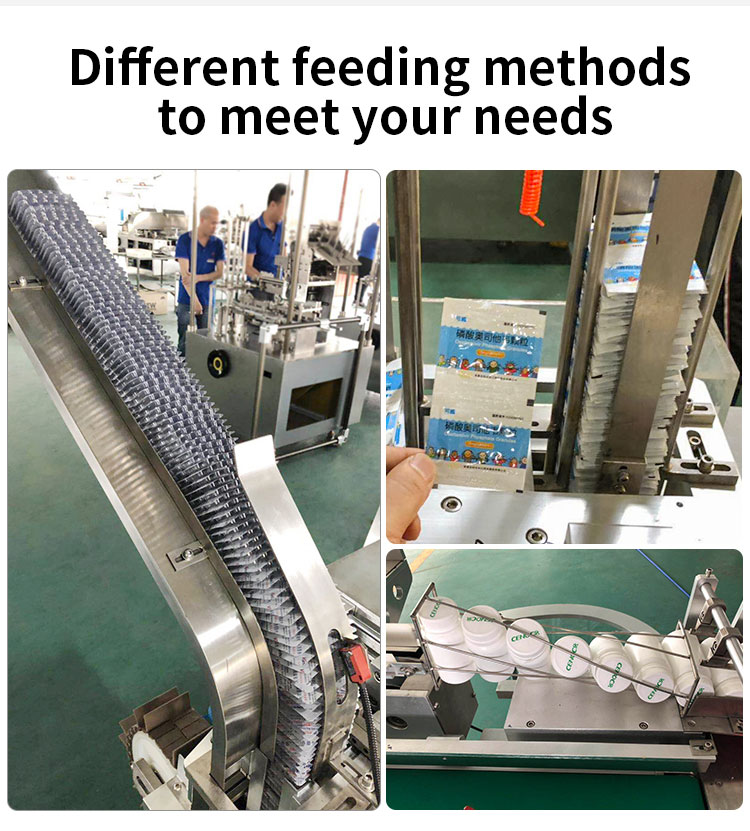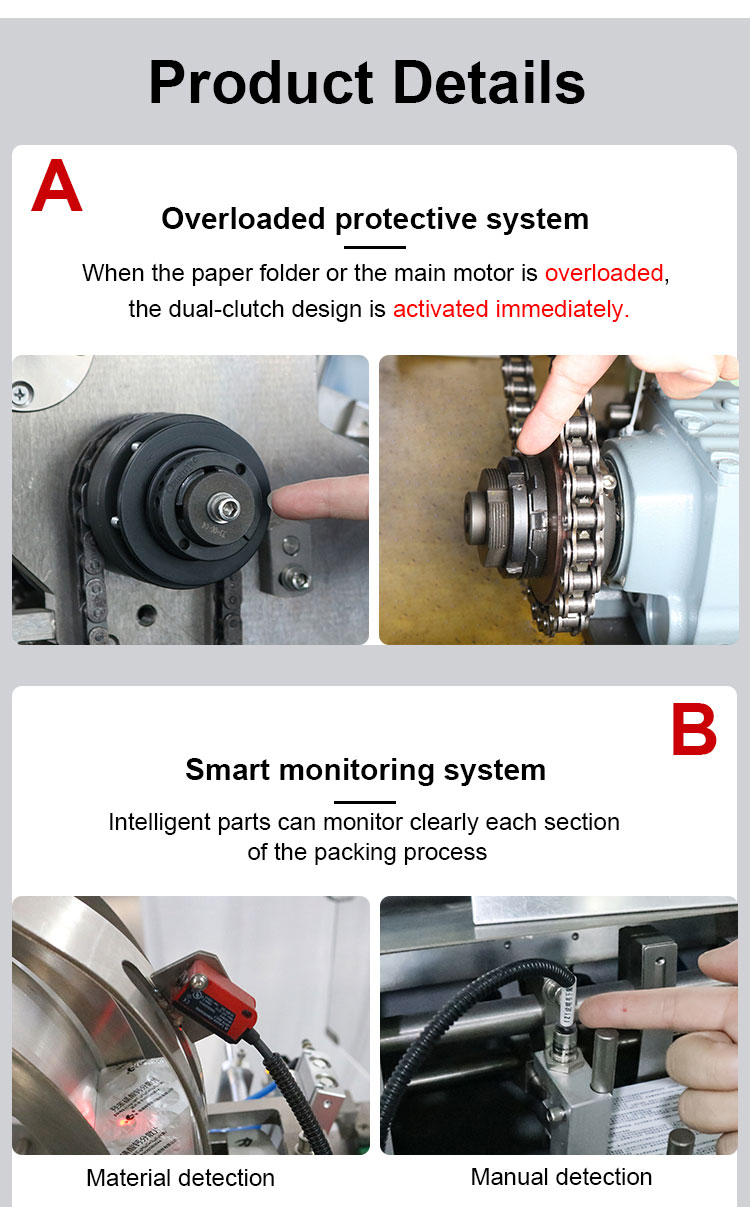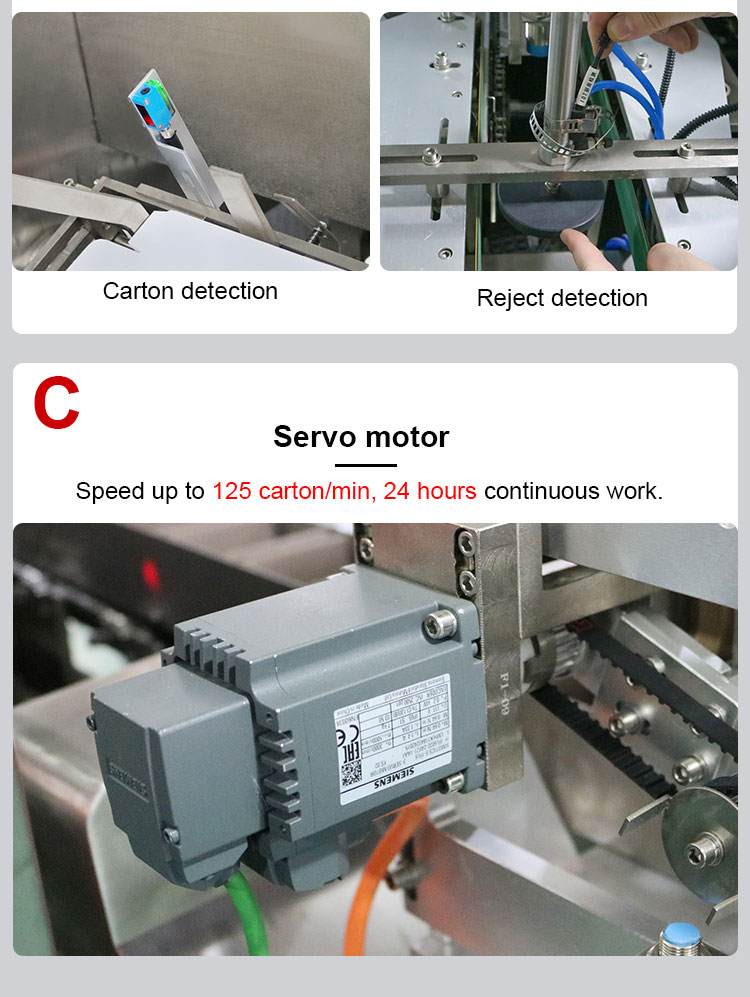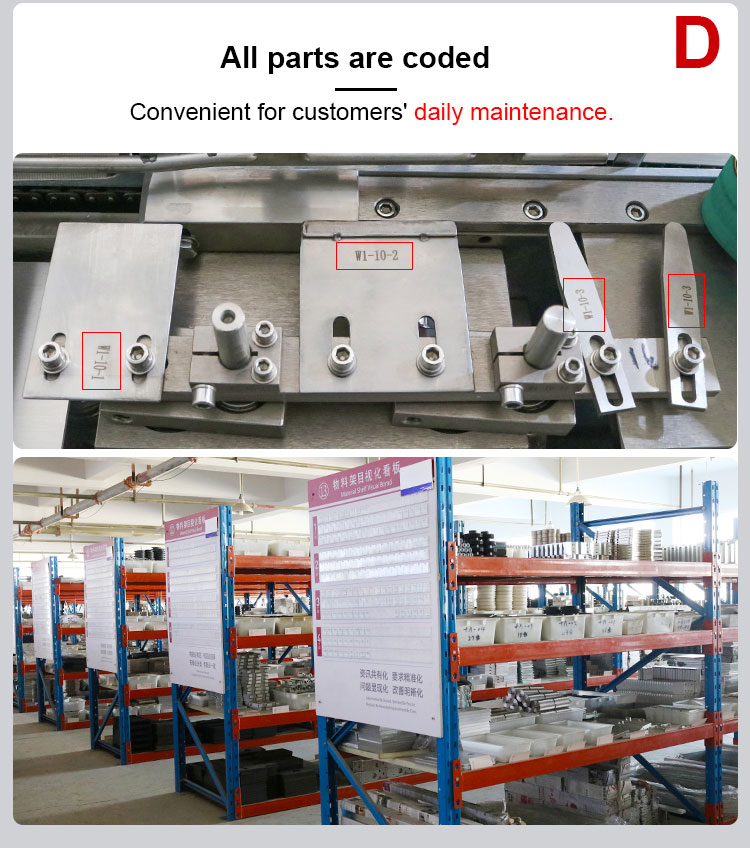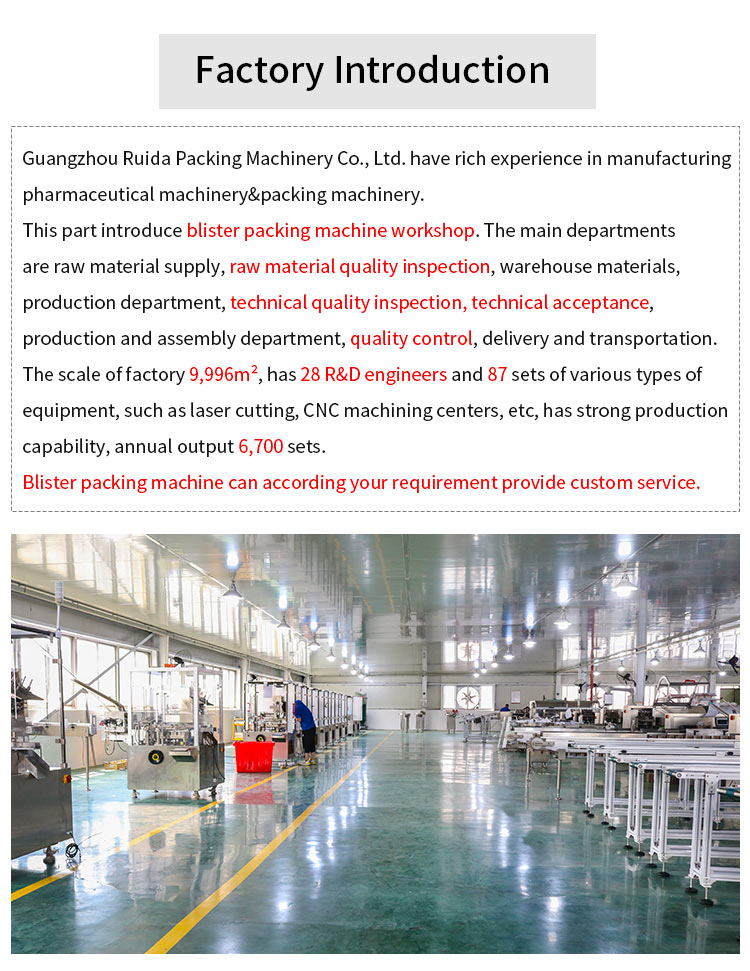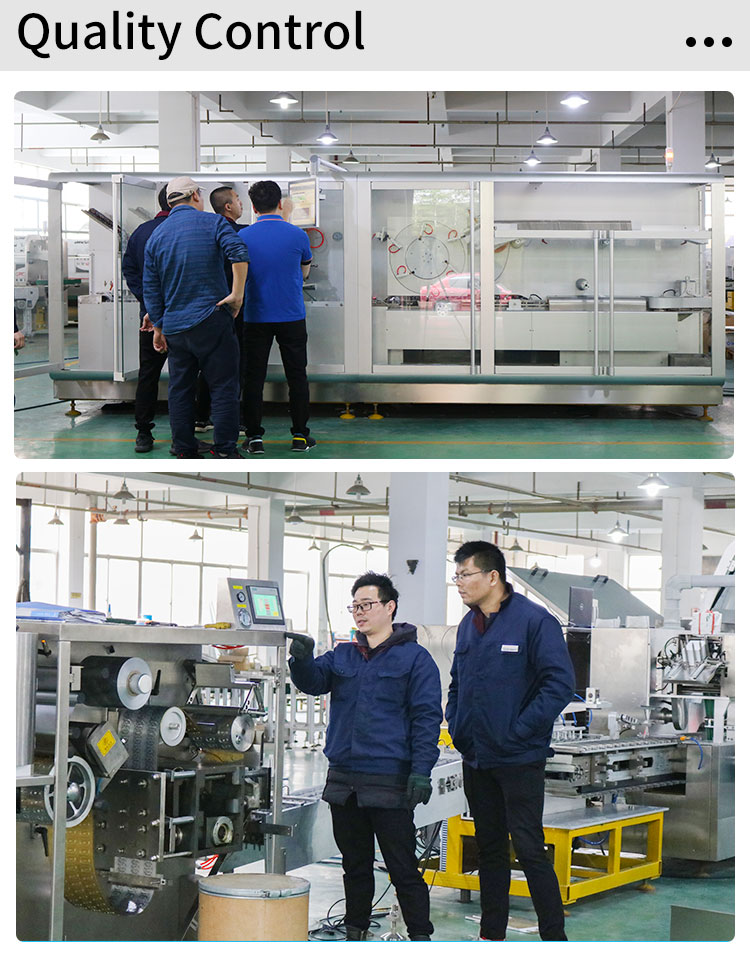 The vertical type automatic box carton packing machine has finally formed the advantages of small space through the rigorous and scientific manufacturing. Ours 120L is not only smaller than the horizontal model, but also has the better space and volume advantages compared with the others similar vertical model. We scientifically designed the special device similar with a car clutch, which is placed on the main motors of this machine and the origami click heads, so as to realize the functions of warning and preventing overloading.
The results of adopting this solution above is that when the pressure of the server motor is bigger than a certain value when the materials is blocked, the function of the clutch device is fully reflected and the motors are automatically stopped. On the other side, the cause and the information of this phenomenon will be directly and clearly displayed on the PLC color display screen, and the sounds will be issued to remind the operators to eliminate the causes of the fault as soon as possible. With reference to the different materials production needs of different users, RICH PACKING will give the special personnel to different cartoning machine packaging solutions for the different types of production additions for the different customers.
Why should choose our's 120L cartoning machine? The production of the high quality 120L automatic cartoning machine is comes from the using of excellent raw materials and the spare parts. The entire production process includes the employment of production skilled workers, the procurement of the raw materials, the technical research and development and the assembly of the professional parts. RICH PACKING meticulously requires each detail. This is the reasons why we have achieved the large area of the cartoning machine's market.
*** Technical parameter
Model

RQ-ZH-12OL

Speed

35-125 carton/min

Total power

1.10 KW

Power supply

220/380V 50Hz

Requirements of carton

size range of carton:L(65-150)*W(35-85)*H(12-45)mm

carton weight:240-360g/㎡

Requirements of instructions

size range of instructions:L(78-250)*W(85-170)mm

range of folding times of instructions:1-4 fold

instructions weight:60-70g/㎡

Pressure

pressureintensity:≥0.6MPa

air consumption:120-160 L/min

Overall size of machine

2150*1140*1800㎜

Net weight of machine

about1500kg
*** Configuration
| | | | |
| --- | --- | --- | --- |
| Item | Specification | Qty. | Manufacturer |
| Servo motor | 400W MHMD042G1U | 1 | Panasonic |
| Servo driver | 400W MBDHT2510E | 1 | Panasonic |
| Main motor | R17DT80N40.75KW/220V/380V | 1 | GermanySEW |
| Frequency converter | FC-051P1K5S2E20H | 1 | Danfoss |
| Air circuit breaker | DZ47-D63/2P | 1 | Yaohua |
| Air circuit breaker | DZ47-D63/2P | 3 | Yaohua |
| Relay | MY2NJ/24VDC | 5 | Japan Omron |
| Touch screen | GC—4408W | 1 | Proface |
| Switch power supply | NES-100-24V | 1 | Taiwan MIWE |
| Power switch | T0-2-1/EA/SVB | 1 | Germany Moeller |
| PLC | Smart ST40 | 1 | Germany Siemens |
| Fiber amplifier | E3X-NA11 | 2 | Japan Omron |
| Optical fiber | E32-ZD200 | 2 | Japan Omron |
| Encoder | E6B2-CWZ6C | 1 | Japan Omron |
| Proximity switch | 1M12-4NNS | 1 | Germany SICK |
| Photoelectric switch | D-73277 | 2 | Germany LEUZE |
| Photoelectric switch | GTE6-N-1212 | 1 | Japan Omron |
| Solenoid valve | VQ21A1-5G-C8 | 3 | Japan SMC |
| Solenoid valve | VP342R-5GD1-02A | 2 | Japan SMC |
| Solenoid valve | VP542R-5GD1-03A | 5 | Japan SMC |
| Solenoid valve | VQ2321-5G1-02 | 4 | Japan SMC |
| Vacuum occur device | ZH20DS-03-04-04 | 2 | Japan SMC |
| Silencer | AN402-04 | 2 | Japan SMC |
| Sucker | KPS6-WS | 10 | Korea |
| Cylinder | CO20B20-10DC | 3 | Japan SMC |
| Pressure switch | QPM11-N0 | 1 | AEK |
| Magnetic switch | CS1-S | 1 | AOTAI |
| Emergency stop button | ZB2-BE102C | 1 | France Schneider |