Pharmacy Tablet Counter And Filler Machine
Electric counting machine meets GMP CE can save a lot of time and labor. Capsule counting machine meets GMP CE can rapidly improve the efficiency by combining with the front and back processing line work together. This type of equipment meets GMP CE is extremely excellent in bottle replacement of various sizes, due to these machine's convenient adjustment and straightforward operation. This equipment meets GMP CE has a wide application in counting of many solid things not just for tablets but also many other pills.
*** Applications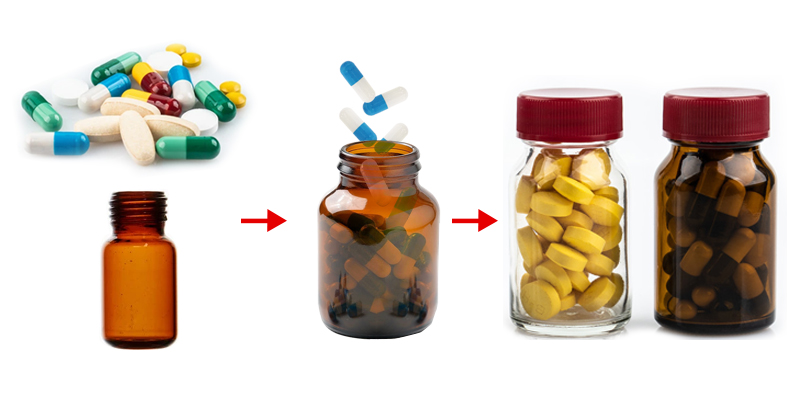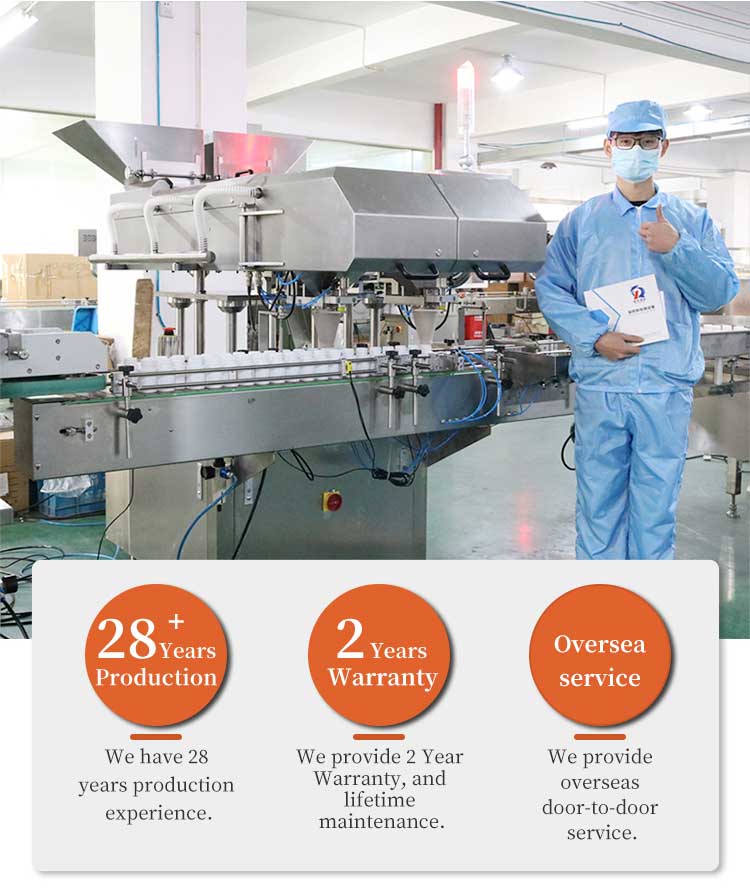 *** Technical parameter
Model

RQ-DSL-16H

Vibration groove tracks

16 lane

Production capacity

260000~ 460000 grains/h

Accuracy rate

>99.98%

Filling range

1~ 9999 grains

Applicable target

Tablet:Φ3~25 mm ,pill:Φ3~20 mm,
hard capsule/soft capsule:000~5#

Applicable bottle type

Φ25~110 mm round and square bottle, height 30-240mm

Voltage

AC 380V 3P 50/60HZ

Power

2.5 KW

Pressure

0.45~ 0.7 Mpa

Air consumption

200 L/min

Hopper capacity

80 L

weight

900 kg

Outline dim.(mm)

1300×1950×1800 mm
*** Configuration List
No.

Item

Specification

Qty.

Manufacturer

1

Count Photoelectric Sensor (Receive)

N24.5R

16

RQ132

2

Count Photoelectric Sensor (Emit)

N24.5E

16

RQ132

3

Valve Group

M4SB10-M5-6

2

Japan CKD

4

Filtrate Regulator

FR500

1

Taiwan SHAKO

5

PLC Group

FP∑-C32TH

FPO-E16YT

1

Japan Panasonic

6

Touch Screen

GE4408W

1

Japan Pro-face

7

Cable Diffuse Sensor

QS18VN6DB

3

USA.BANNER

8

AC Contactor

GMC-9

1

Korea LG

9

DC Contactor

GMD-9

3

Korea LG

10

Thermal Overlood Relay

GTH-22/3

1

Korea LG

11

Count Cylinder

DSN-10-55-

16

Germany FESTO

12

Position Cylinder

SDA20-10

4

AIRTAC

13

Control Box

131200000

1

Germany MECANO

14

Directive Signal Light

AL6M-P

3

Japan IDEC

15

Button Switch

ABW310EG

1

Japan IDEC
*** DSL-16H's independent scanning units.
This electric counting machine meets GMP CE has numerous advantages including automatic real-time detection, mistake alarm and so on to ensure the quantity and precision of meets GMP CE machine making product.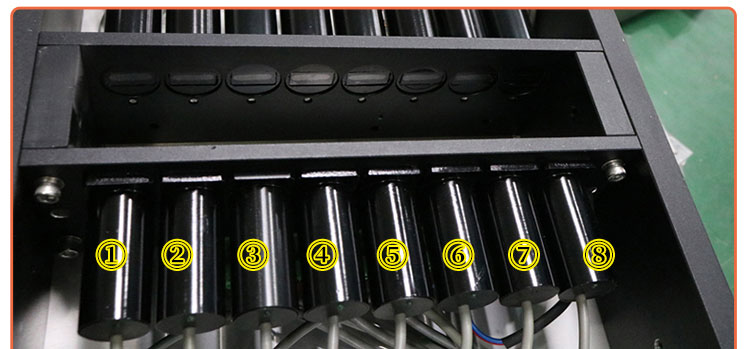 *** The New closed design in DSL-16H.
All kinds of the unqualified products can be sensibly detected and stringently rejected by this meets GMP CE equipment and the whole process is totally automatic.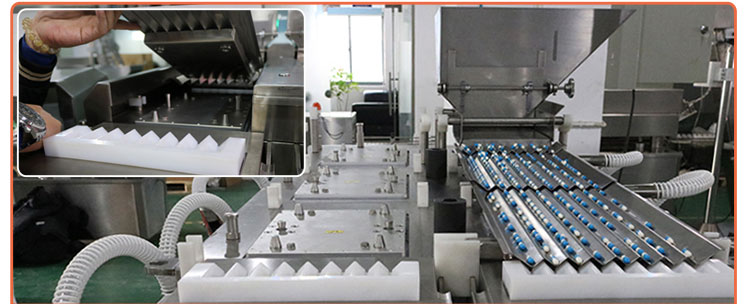 *** Modularization of blanking section and scanning section in 16H.
Thus finally all the finished products meet the standard rules of counting production without any faulty. And this is perfectly meets GMP CE model suitable for all sorts of production.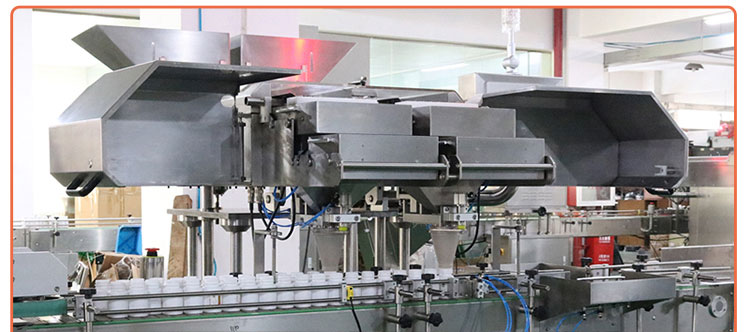 *** Certification: SGS, CE, ISO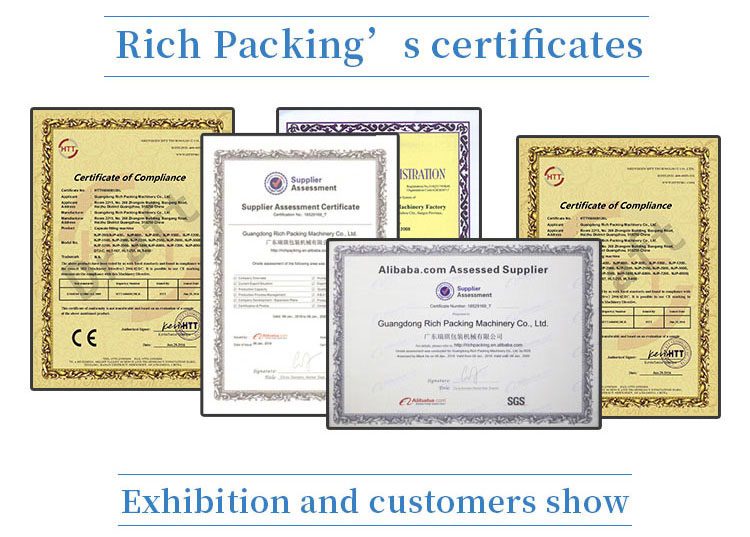 ***
Electric counting machine meets GMP CE totally meets the standard rules of GMP production. And it completely meets the related working production rules of all industries.
This tablet counting machinery has been sold to tens of thousands of clients.
And these meets GMP CE machine has received numerous extremely high praises from customers in the domestic and the overseas market.
The straightforward cleaning and the maintenance of these meets GMP CE machine, and 16H machinery is extremely nice to the environment because it has zero pollution.
16H tablet capsule counting and filling machinery is extremely excellent in its performance, and the quality and all brands of control parts of this meets GMP CE device are famous in the world.