Tablet Counting Machine Automatic By Rich Packing
By our unremitting efforts and all the expanding channel network, Rich Packing company has set up many service center in the major market regions in the worlds. This advantage ensures that our With the continuous changes of the tablet capsule counting machine industry, customers are increasingly raising higher demand from the quality of products and the degree of finished materials. The tablet capsule counting machine only needed to complete a simple counting function, but now 8D model needs to completely meet the various production requirements of the counting machinery field.are widely used on the earth. In those areas within the radius of Rich Packing service network, we can send our professional installation and commissioning engineers to the field to provide services within three days.

*** Applications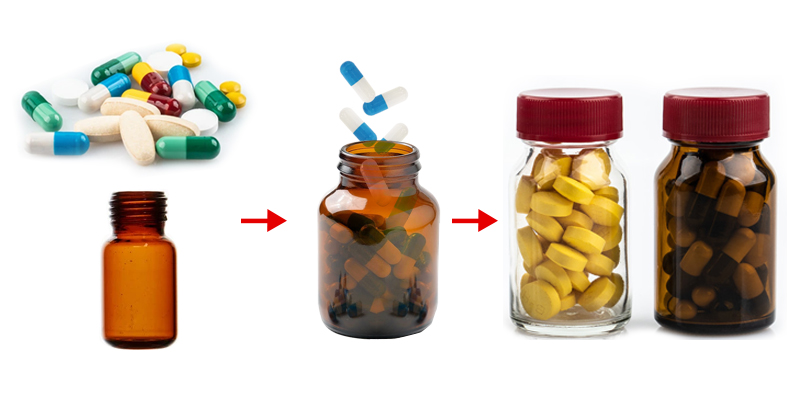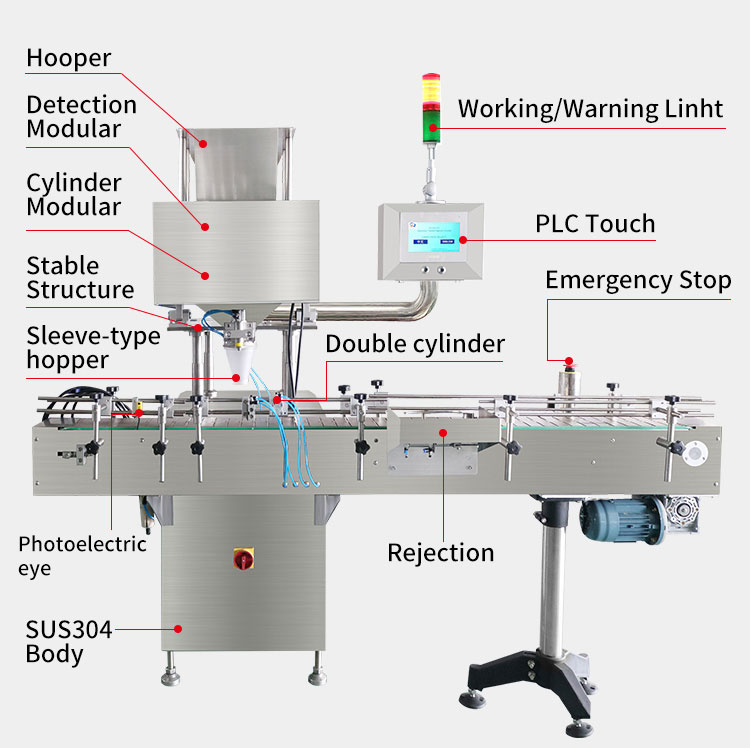 *** Technical parameter
Model

RQ-DSL-8D

Vibration groove tracks

8 lane

Production capacity

50 bottles per minute (according to the capacity of 60 capsules per bottle)

Accuracy rate

>99.97%

Filling range

3 ~ 9999 grains

Applicable target

Tablet:Φ3~25mm ,pill:Φ3~20mm,
hard capsule/soft capsule:000~5#

Applicable bottle type

Φ25~75mm round and square bottle, height ≤240 mm

Voltage

AC380V 3P 50/60HZ

Power

1.5KW

Pressure

0.4~0.6Mpa

Air consumption

105L/min

Hopper capacity

25L

Weight

405kg

Outline dim.(mm)

1100×1400×1800mm(L*W*H)
*** Configuration List
No.

Item

Specification

Qty.

Manufacturer

1

Count Photoelectric Sensor (Receive)

N24.5R

8

Lattine

2

Count Photoelectric Sensor (Emit)

N24.5E

8

Lattine

3

Valve Group

M4SB10-M5-6

1

Japan CKD

4

Filtrate Regulator

FR500

1

Taiwan SHAKO

5

PLC Group

FP∑-C32TH

FPO-E16YT

1

Japan Panasonic

6

Touch Screen

GE4408W

1

Japan Pro-face

7

Cable Diffuse Sensor

QS18VN6DB

3

USA.BANNER

8

AC Contactor

GMC-9

1

Korea LG

9

DC Contactor

GMD-9

3

Korea LG

10

Thermal Overlood Relay

GTH-22/3

1

Korea LG

11

Count Cylinder

SCPS2-1030

8

Japan CKD

12

Position Cylinder

SDA20-10

4

AIRTAC

13

Control Box

131200000

1

Germany MECANO

14

Directive Signal Light

AL6M-P

3

Japan IDEC

15

Button Switch

ABW310EG

1

Japan IDEC

For example, 8D counting machine automatic needs to meet the high-standard production requirements of various major markets.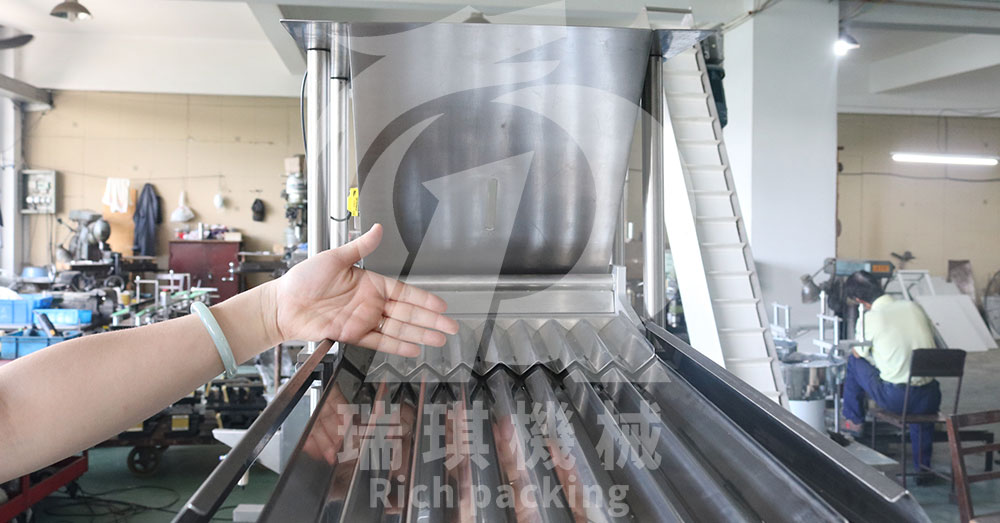 Just like the GMP certification in the North American region, and the UL certification of the United States in the North American market. Each regions requires ISO and CE certification that manufacturers factory must meet.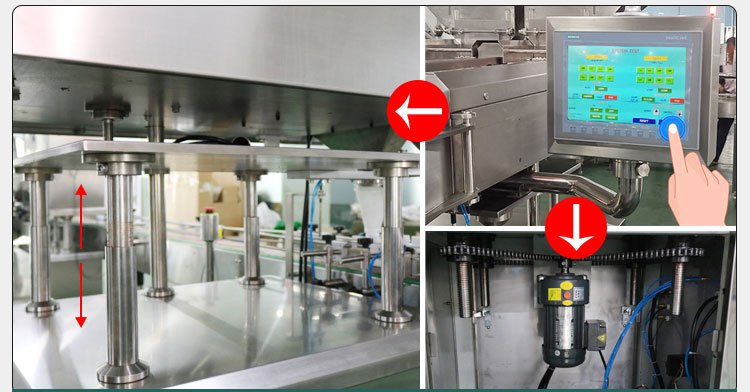 Thanks to its Rich Packing production experience and the development of skilled workers, Rich Packing's independent innovation has completed the path that the other peers can only walk out of over two decades in just a few years.
By continuously increasing the scale of making machinery production products and increasing the types of products, we have reached the TOP-2 merchants in the main product industry.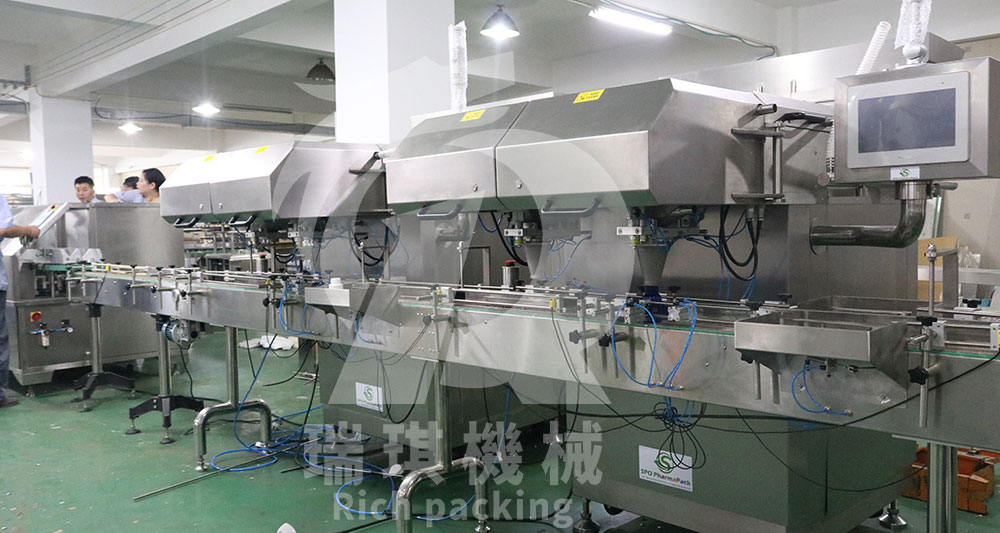 *** Certification: SGS, CE, ISO, GMP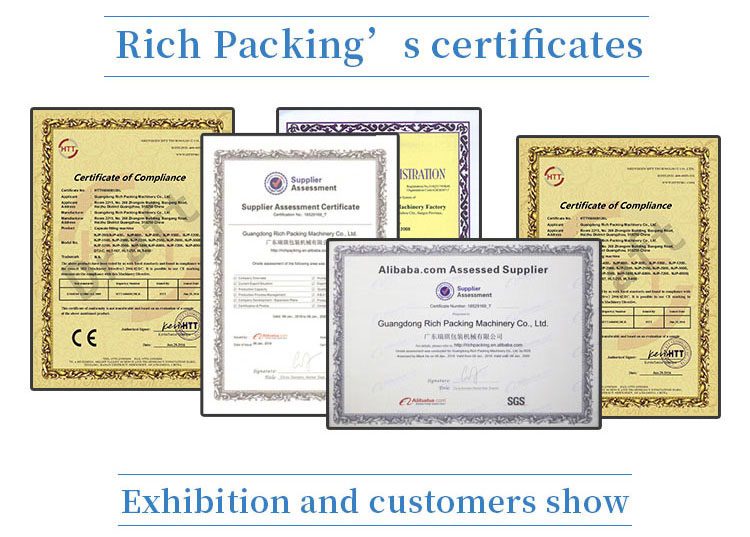 ***
The RICH PACKING company R&D personnel used the pneumatic systems in the oscillating plate and the unloading port of the machine.
Now through the movement of the pneumatic system and the entire installation, commissioning and maintenance and cleaning tasks can be easily completed only by setting the air intake or exhaust of the cylinder.
We have developed many models of pill tablet counter products that are widely welcomed by customers or agents.
Customers in need just need to contact us to send the demands output and product size data. Our good business staff will provide a complete solution within 24 hours.