DPP 260 Blister Packaging Machine
This type of blister packaging machine can be used to pack hard or soft capsules or pills or tablets or candies or others, and has a very high adaptability for aluminum-plastic board packaging. The entire display of this machine to the outside world is its high-value appearance and outstanding packaging quality, both of which ensure the stability and level of packaging materials. Under the premise of ensuring the above advantages, the production speed can be adjusted according to the parameters and can exceed 10,000 plates per hour, so the equipment can easily cope with the demand for mass production orders.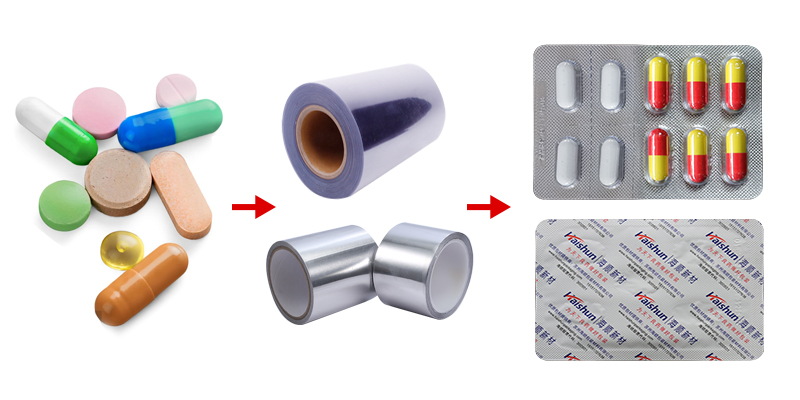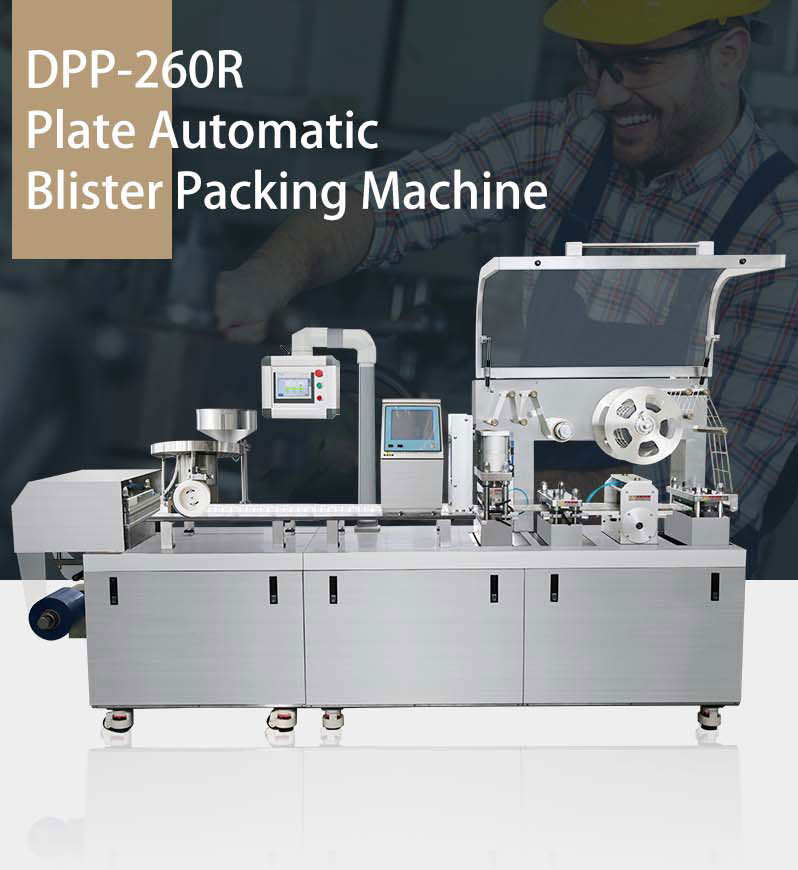 *** Technical parameter
Model

DPP-260R

Production Capacity

18000~236,000pcs/hour

Max. Shaping Dia. And Depth

250*160*15mmMax. Depth26mm(custom-made)

Blanking

20~180blisters/min (aluminum plastic)

20~120 blisters/min (aluminum aluminum)

Power of Main Motor

1.5kW

Total Power

6.0kW

Power supply

380V/220V/50Hz

Standard Travel Range

40~160mm

Standard Plate

80*57mm

Thickness and Width of PVC

260×0.15~0.45mm

Thickness and Width of PTP

260×0.02~0.03mm

Dialyzing Paper

50~100g*260mm

Vacuum

0.4MPa-0.6MPa

gas consumption

≥0.2m3/min

Noise

<75dBA

Mold Cooling

Runing water or circulating water It is recommended to use constant temperature cold water 60L/H

Weight

Net weight 2600kg

Overall Size of Machine

3500×740×1680 mm(L*W*H)
***Configuration List.
Name

Spec./Model

Qty

Manufacturer

Servo Motor

ECMA-C20807RS

1

Taiwan taida

server Driver

server Driver

1

Taiwan taida

PLC main module

CP1L-M30DR-A

1

Omron

PLC temperature module

CP1W-TSOO2

1

Omron

PLC touch screen

6AV6/648-0BC11-3AX0

1

Siemens

Encoder

ZSP3806-003G-1500BZ3-5-24F

1

United States

Rip Ann Waco

Main motor

RC series helical gear motor

1

Suncheon

Frequency converter

VFD015B43A

taiwantaida

Stainless steel plate

304 316

Korea,japan

Switching power supply

NES-100-24

Taiwan mingwei

Positioning cylinder

SDA32×10

AirTAC

Double pressure reducing valve

BFC4000-N

AirTAC

The electromagnetic valve

4V210-08

AirTAC

Pressure reducing valve

AC2010-02

AirTAC

emergency button

XB2-BS542

Schneider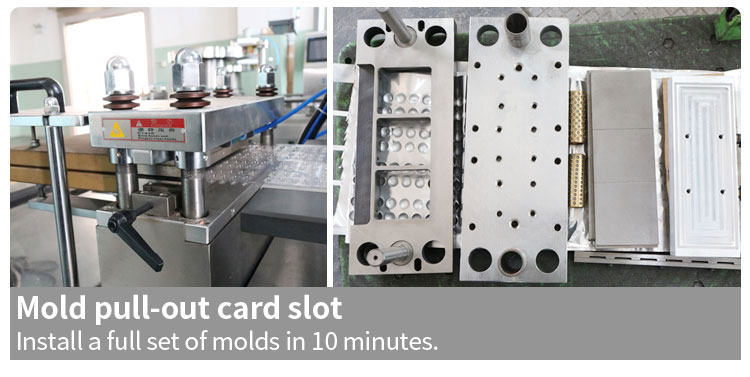 High-quality production speed means extremely high blister production efficiency. Therefore, when large orders are made, blisters for manufacturing capsules and tablets and other materials can be completed on time and in quantity by the medical aluminum-plastic blister machine or early.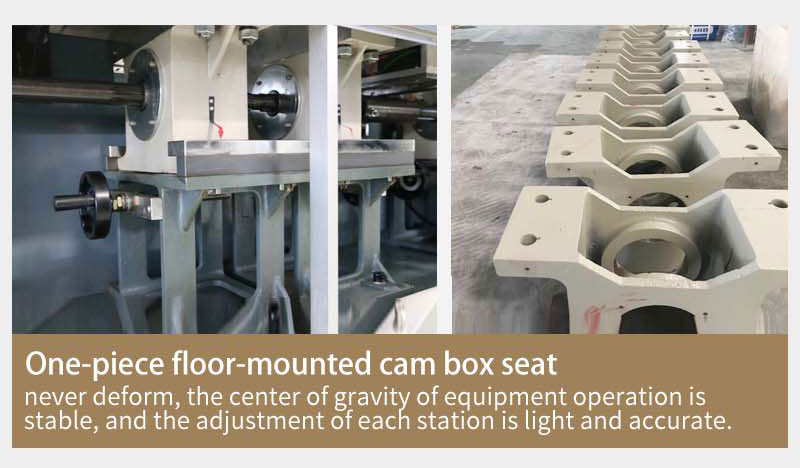 High production speed, high stability, excellent quality, and other advantages make this capsule pill blister packaging machine perfect. The equipment is fully automatic in the entire packaging process.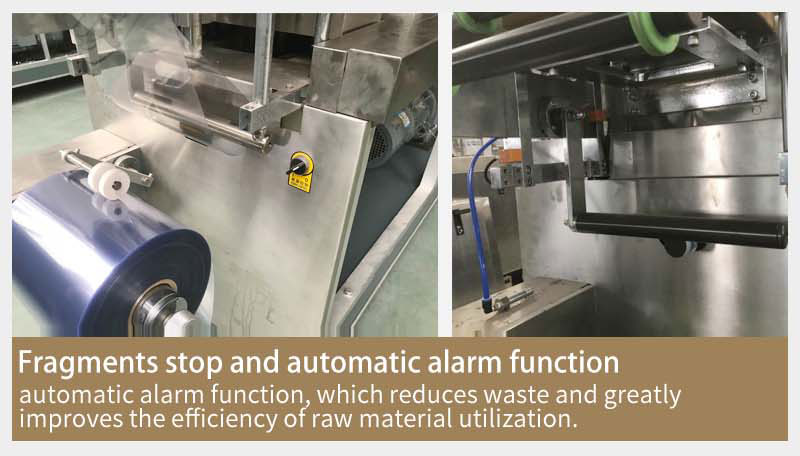 The staff after simple operation training can easily use the equipment, because we will randomly configure the operation manual and customers who purchase our machines can ask us for the operation videos of the machines. RICH PACKING can provide 260R machine operation videos in multiple languages.


*** Certification: SGS, CE, ISO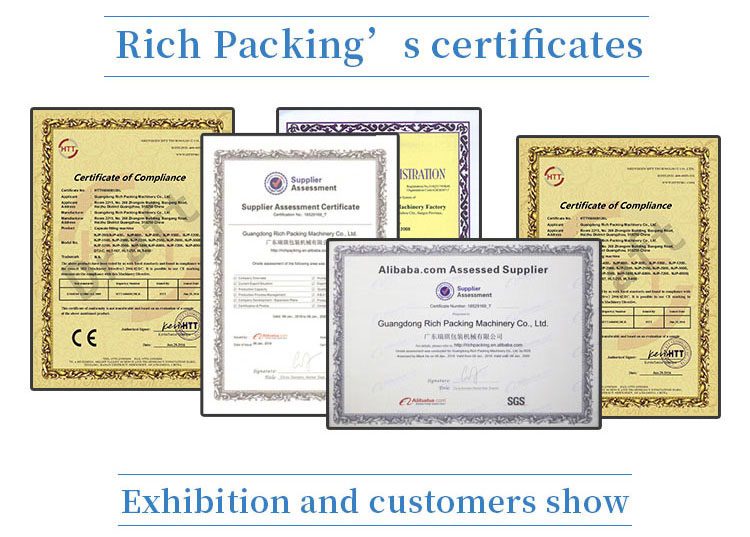 ***
The flat plate blister packaging machine adopts the traction of the servo motor to ensure the accuracy of the material feeding without error.
In case of unexpected situations such as power failure and short circuit, the machine also has the protection function of automatic start. In addition, it will suspend operation when a fault or problem occurs and at the same time automatically send out an alarm signal to the outside world, so the packaging materials and materials running in the machine will not be wasted.
This kind of equipment has very simple operability through delicate design, and only a few simple actions can be completed when any mold needs to be changed.