DPP 260R Blister Packaging Machine By Rich Packing
This model of the blister packer machine with eye mark function can be used to pack capsules, pills, tablets, candy or the small items, and the blistering packaging level is very high. So all of these materials will show everyone its high-quality appearance and high outstanding packaging quality to enhance the degree of the blister plate product. Its speed is so fast that the equipment can handle all kinds of the urgent production orders without difficulty.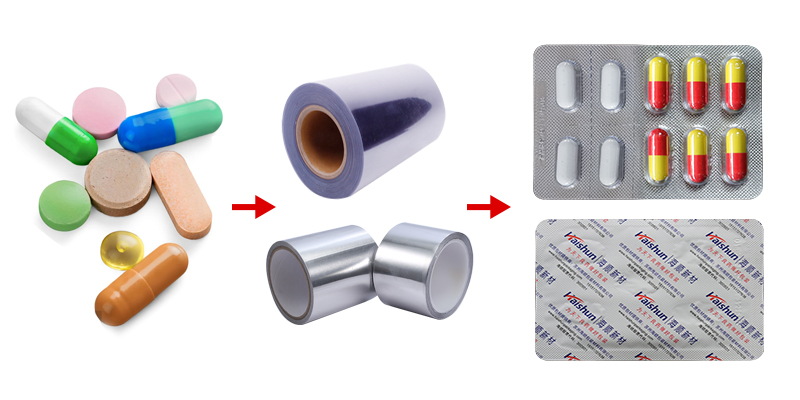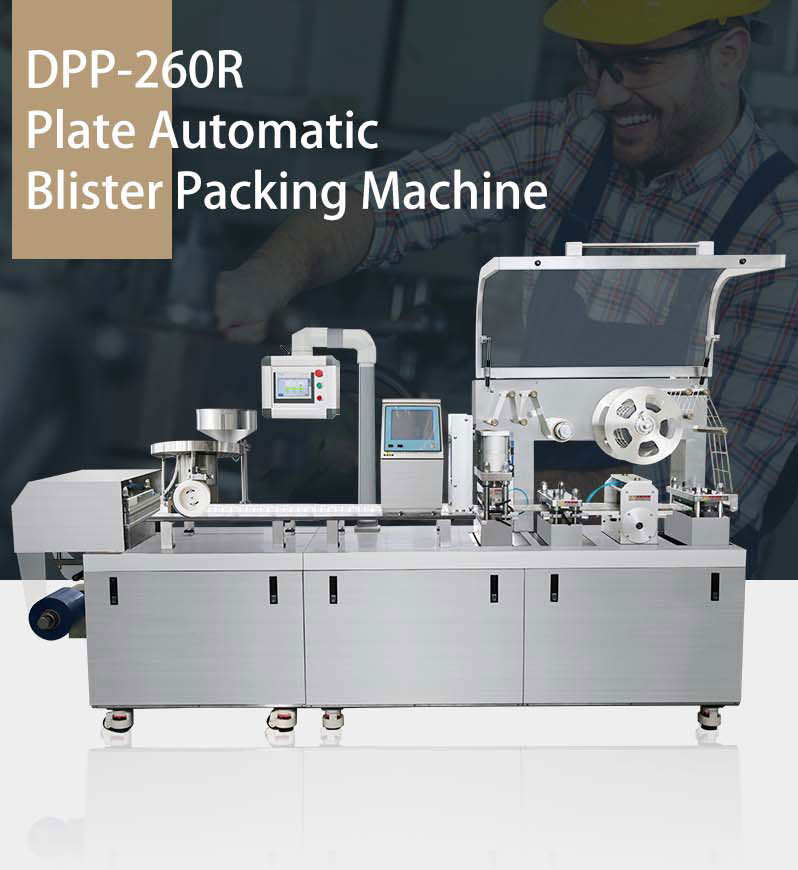 *** Technical parameter
Model

DPP-260R

Production Capacity

18000~236,000pcs/hour

Max. Shaping Dia. And Depth

250*160*15mmMax. Depth26mm(custom-made)

Blanking

20~180blisters/min (aluminum plastic)

20~120 blisters/min (aluminum aluminum)

Power of Main Motor

1.5kW

Total Power

6.0kW

Power supply

380V/220V/50Hz

Standard Travel Range

40~160mm

Standard Plate

80*57mm

Thickness and Width of PVC

260×0.15~0.45mm

Thickness and Width of PTP

260×0.02~0.03mm

Dialyzing Paper

50~100g*260mm

Vacuum

0.4MPa-0.6MPa

gas consumption

≥0.2m3/min

Noise

<75dBA

Mold Cooling

Runing water or circulating water It is recommended to use constant temperature cold water 60L/H

Weight

Net weight 2600kg

Overall Size of Machine

3500×740×1680 mm(L*W*H)
***Configuration List.
Name

Spec./Model

Qty

Manufacturer

Servo Motor

ECMA-C20807RS

1

Taiwan taida

server Driver

server Driver

1

Taiwan taida

PLC main module

CP1L-M30DR-A

1

Omron

PLC temperature module

CP1W-TSOO2

1

Omron

PLC touch screen

6AV6/648-0BC11-3AX0

1

Siemens

Encoder

ZSP3806-003G-1500BZ3-5-24F

1

United States

Rip Ann Waco

Main motor

RC series helical gear motor

1

Suncheon

Frequency converter

VFD015B43A

taiwantaida

Stainless steel plate

304 316

Korea,japan

Switching power supply

NES-100-24

Taiwan mingwei

Positioning cylinder

SDA32×10

AirTAC

Double pressure reducing valve

BFC4000-N

AirTAC

The electromagnetic valve

4V210-08

AirTAC

Pressure reducing valve

AC2010-02

AirTAC

emergency button

XB2-BS542

Schneider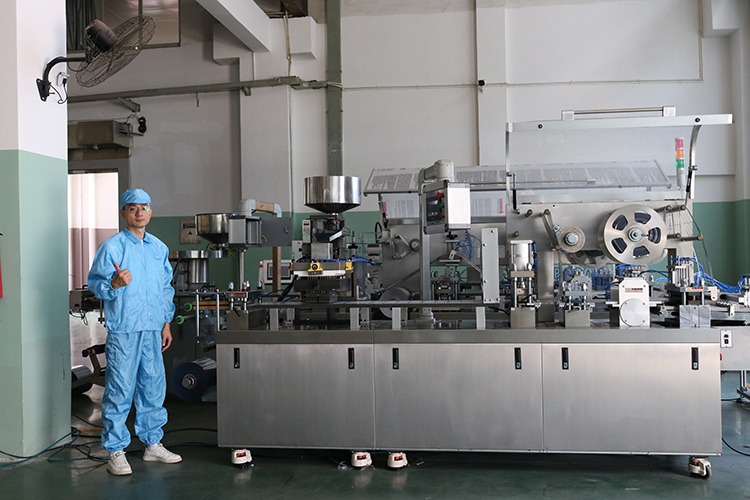 Our type of automatic blister packer machine adopts two hot thermoforming devices for matching plates, and the temperature rate of the heating plate exceeds 110 degrees Celsius, which that exceeds the level of other blistering machines in the field industry.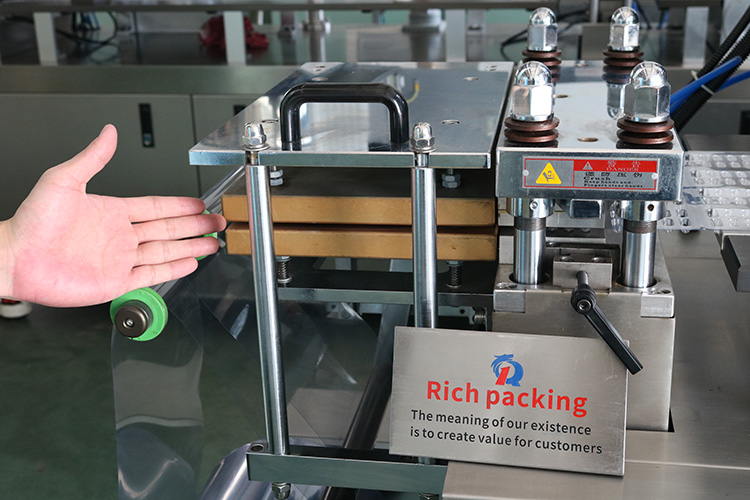 When the heating station temperature of the lower and upper heating plate exceeds 100 degrees Celsius, this preheating temperature can realize the blister forming process running of the PVC packaging material.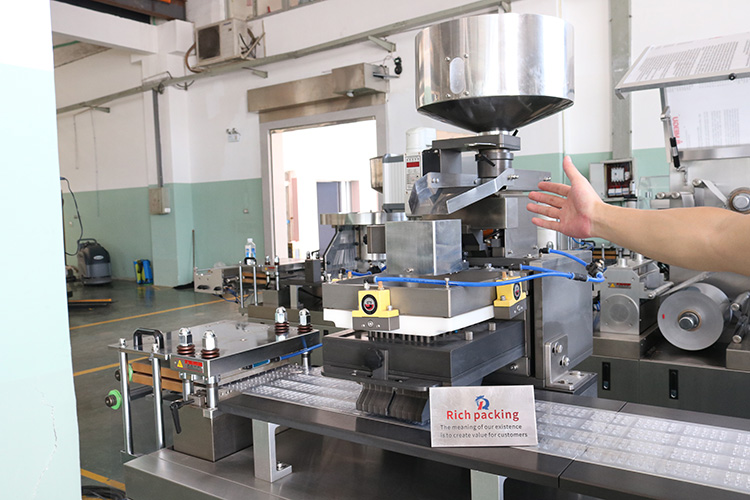 The traction accuracy of this flat blister packaging machine is highly correct, and there is no retreat for all the materials when it suddenly stops.



*** Certification: SGS, CE, ISO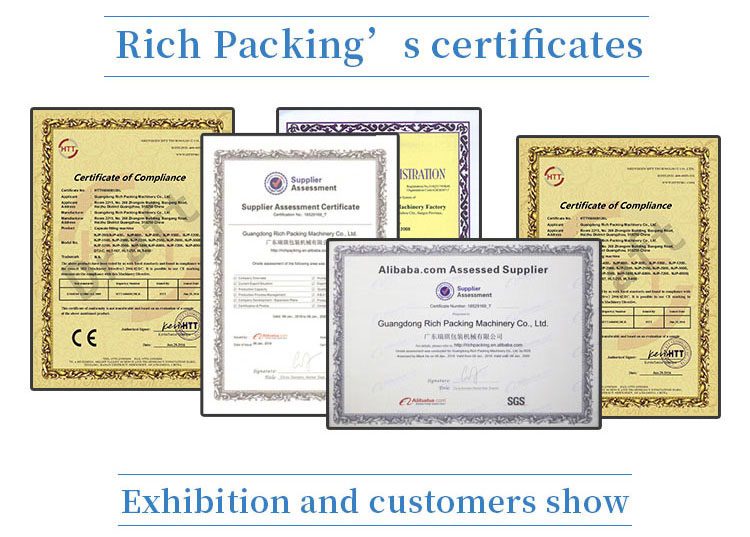 ***
When the serious error occurs in the working progress, it will stop running and retract the warning alarm, so it will not waste any tools materials.
This kind of blister pack machinery equipment is very simple for anyone, and little mold can be changed, just like all molds can be changed very conveniently and quickly and in a short time in 20 minutes.