NJP 3800D High Speed Capsule Filling Machine By Rich Packing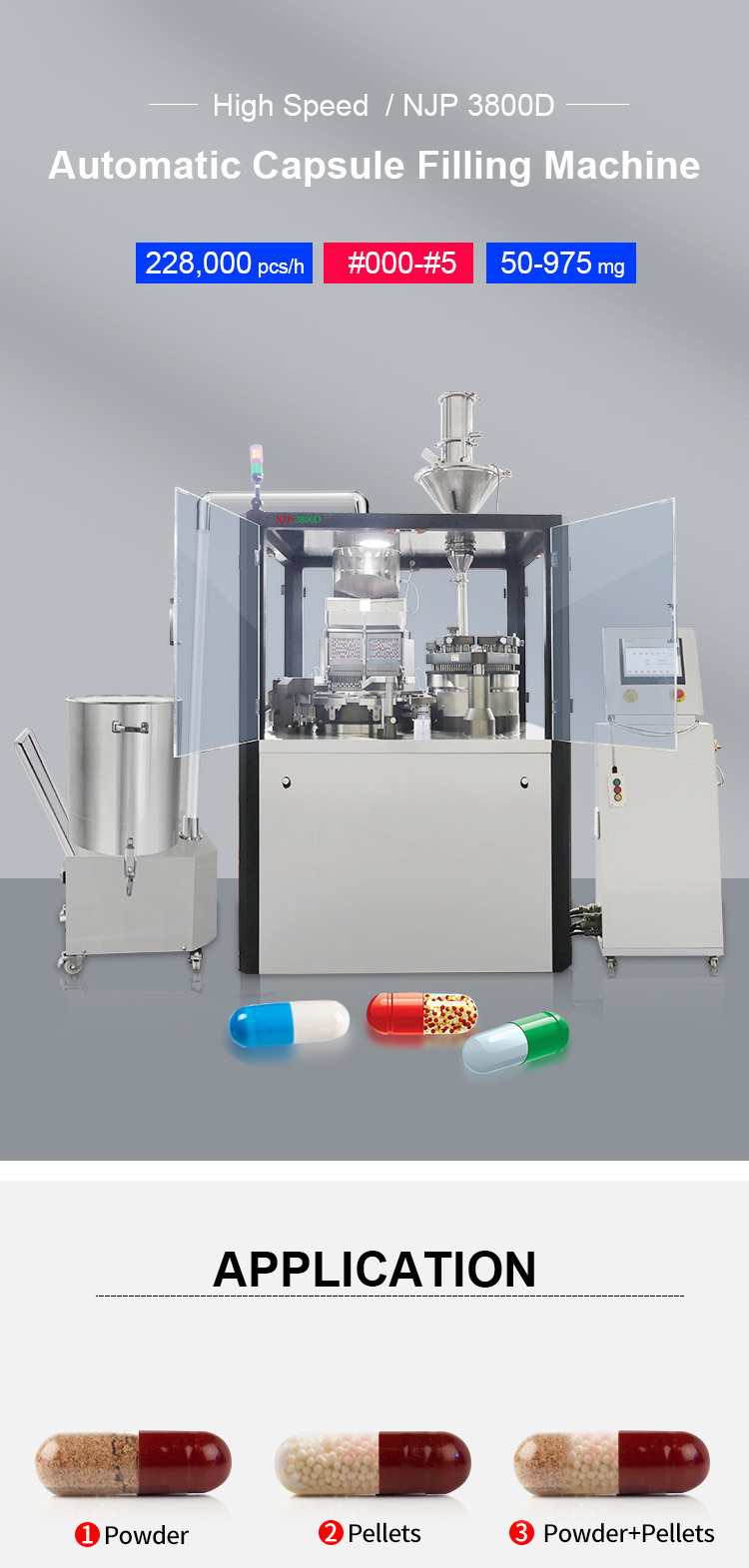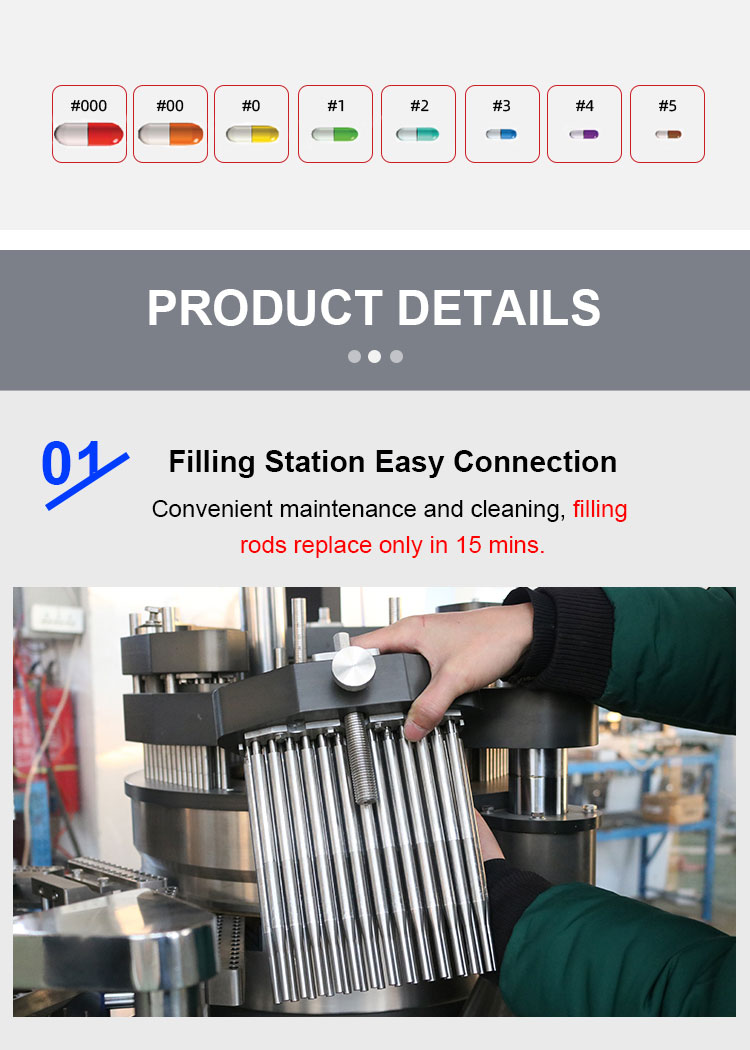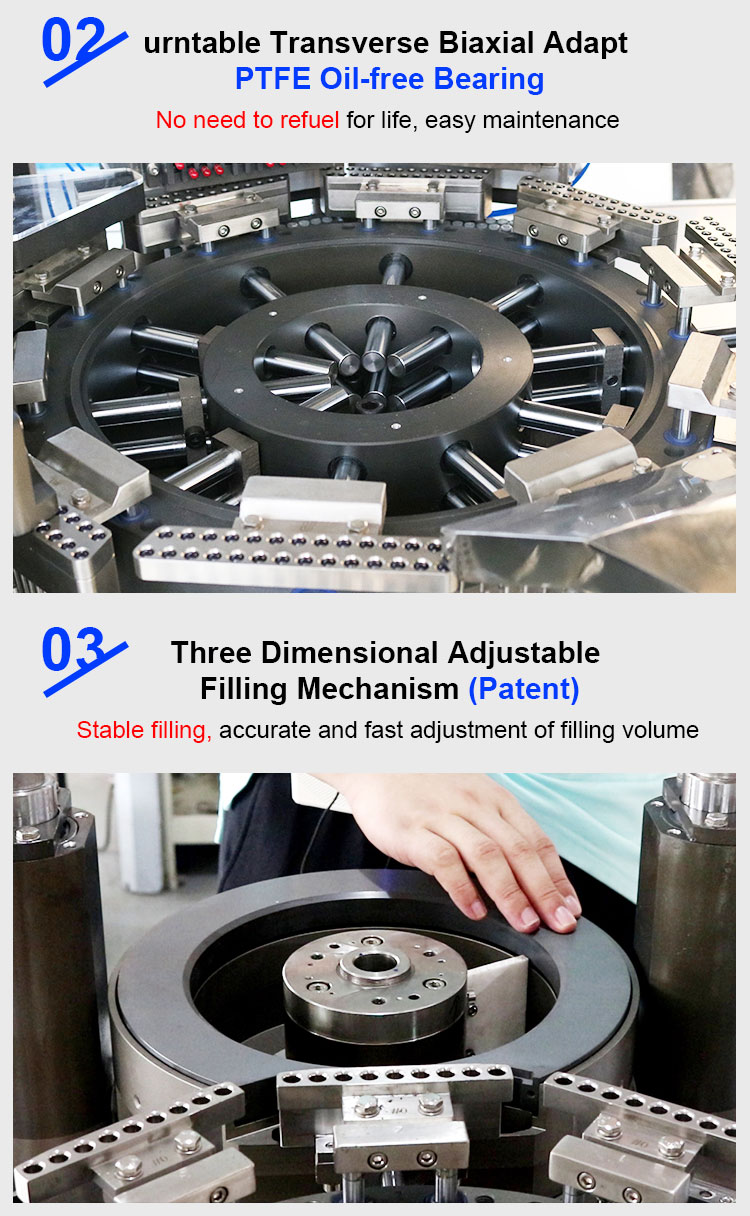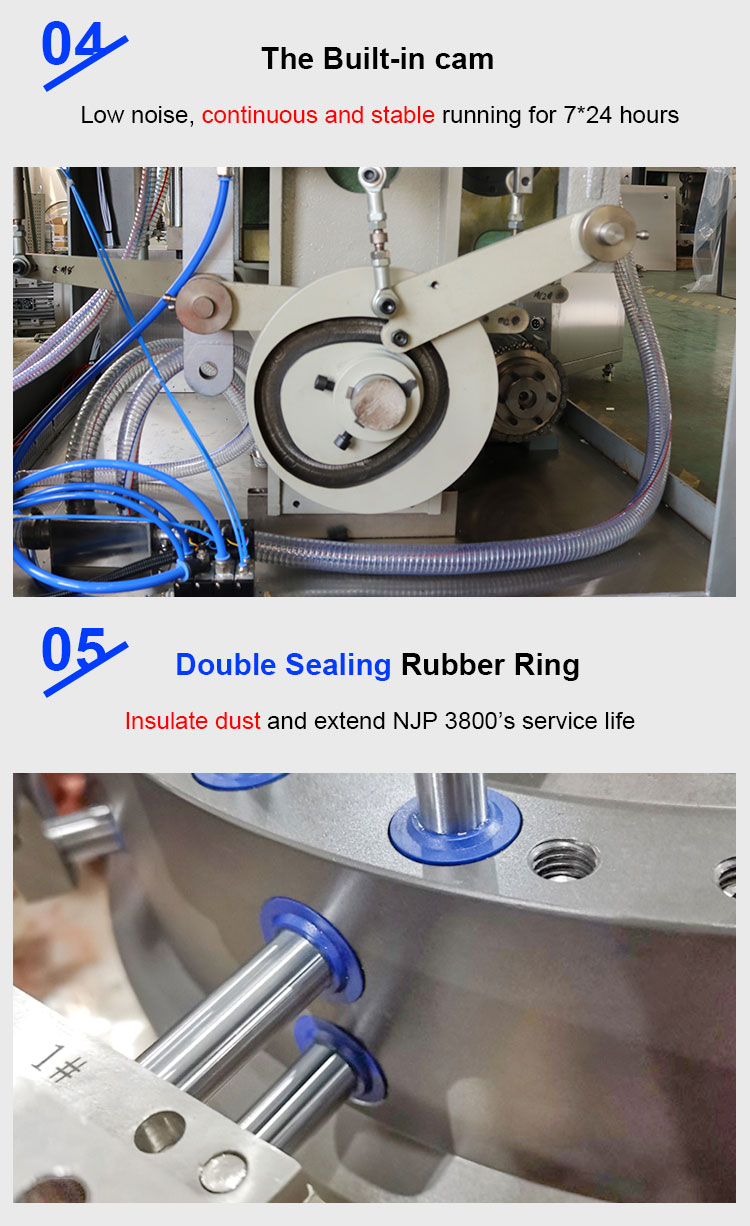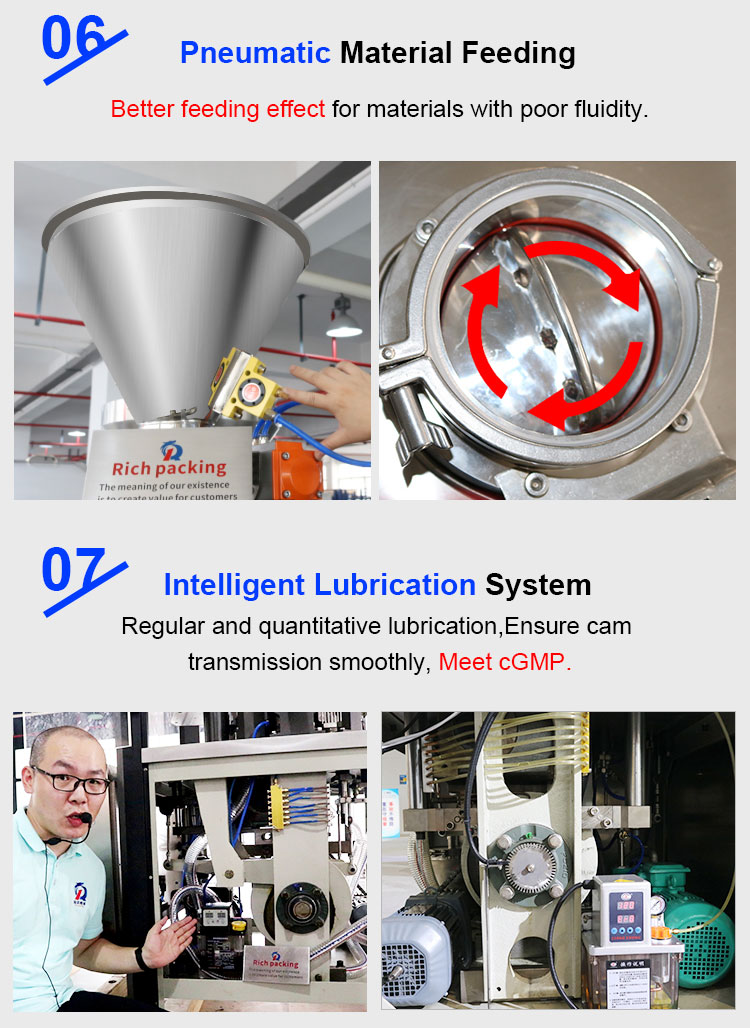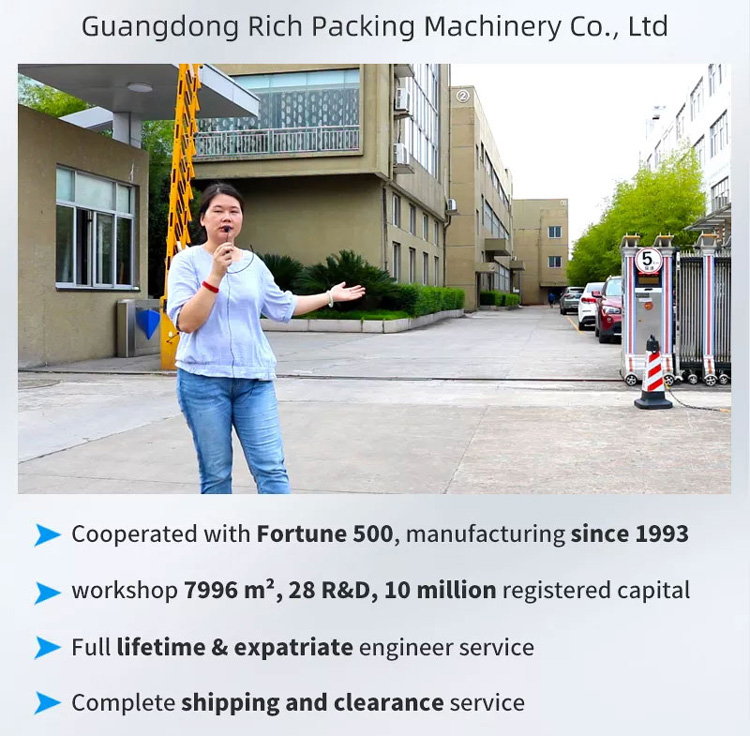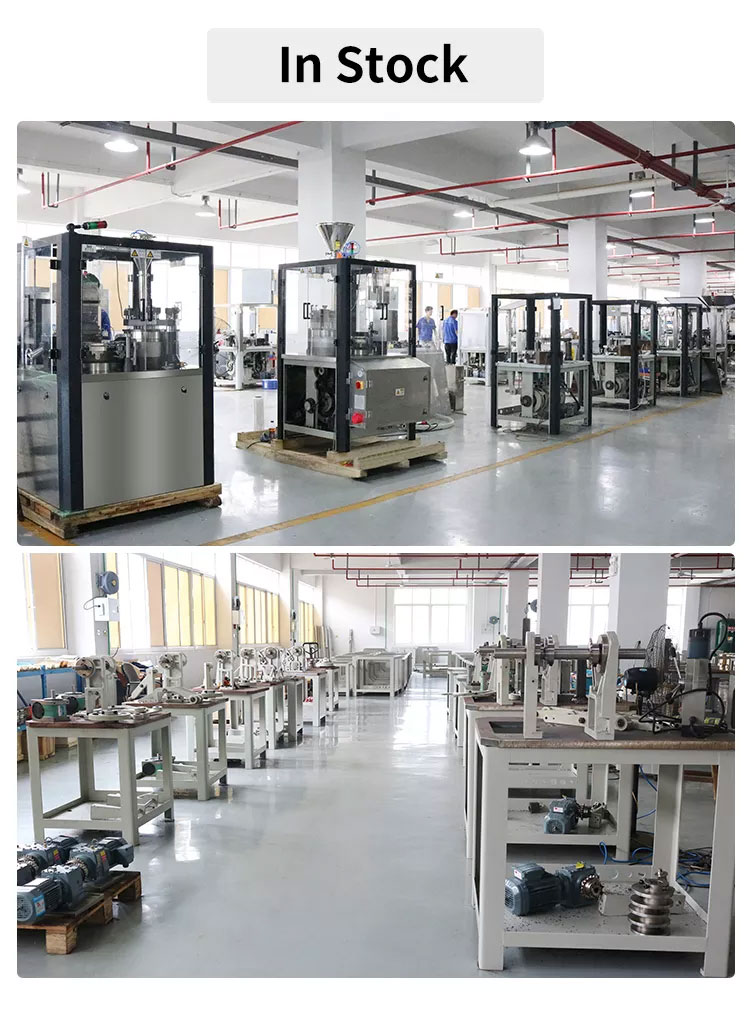 The NJP-3800 capsule filler machine was designed by our team to meet the needs of high capacity capsule production. This type is the higher-speed model developed after the high-speed capsule filling model 2600. On the premise of fully meeting the GMP hygienic production requirements, we have upgraded the productivity per minute by more than 40% compared with NJP2600. *** Applications

*** The difference between NJP3800 D-model capsule making machine and 2600 C-model machine is mainly in several major aspects. The first one is the difference in appearance.
*** The pure metal sheet appearance has been upgraded to the frame structure like the car paint process to prevent users fingerprints and the oil stains from interfering with machine production.
*** The number of molds seeding holes on the capsule plate has also been upgraded to two rows, a total numbers of 27. With so many seeding holes, the output data can easily exceed 200,000 finished capsules in one hour.
*** Why choose ours NJP-3800C model?The capsule filling machine runs very stably, and the material of powder is loaded by starting and unloading which is similar to injection. The resulting advantages are that the amount of material added is very accurate, and it can achieve very good suppression of the powder spillage. The NJP-3800D capsule filling machine is complies with the GMP production standard. The parts and components used in the NJP 3800 are harmless to the human body and the biologically. Pharmaceutical and food industry safety are the first considerations for our machine production. The NJP-3800C full automatic capsule filling machine is suitable for filling the full size capsules, that is covering from #000 capsules to #5 capsules can be completed. This model of machine NJP-3800D has obtained six technological innovations and the number of creation patents.
*** Technical parameter
| | |
| --- | --- |
| Name | high speed capsule filling machine |
| Production capacity | 228000 pcs/h |
| Net weight of machine | 2200Kg |
| Overall size of machine | 1395×1180×2200 |
| Power | 380/220V 50Hz |
| Total power | 10.5KW |
| No.of segment bores | 27 |
| Vacuum | 120m3/h-0.04-0.08Mpa |
| Dust collector | 24.5Kpa 210m3/h |
| Noise | <75DB(A) |
| Making rate | Empty capsule99.9% Full capsule99.8% |
| Applicable capsule | 00,0,1,2,3,4,5# |
| Filling error | Western medicine:±3% Chinese medicine:±4% |
| Applicable product | Power、granule、pellet、tablet |
*** Configuration List
Item

Specification

Qty.

Manufacturer

Touch screen

6AV6/648-0BE11-3A0

1

Germany Siemens

PLC

6ES7/288-1ST20-0AA0

1

Germany Siemens

AC Contactor

3T42(3pcs)3T43(2pcs)

5

Germany Siemens

Frequency converter

ATV320U40N4C

1

Schneider

Thermal relay

3UA59

4

Germany Siemens

Button

ZB2-BA3C

3

Schneider

Main Motor

R57DRS100M4BES

1

GermanySEW

Cam

RU-125DS-10

RU-100DS-6

2

Taiwan daojin

Vacuum pump(wet)

SK-2A

1

Shanghai

Dust collector

XLJ Series

1

Self-made

Linear bearing

LM12UU

56

Korea SAMICK

Linear bearing

LM20UU

40

Korea SAMICK

Linear bearing

LM25UU

16

Korea SAMICK

Linear bearing

LM50UU

4

Korea SAMICK

Plastic engineering bearings

LIN-01-16

20

Germany Igus

Roller bearing

CF6B

10

Japan IKO

Roller bearing

CF12B

2

Japan IKO

Roller bearing

CF16B

3

Japan IKO

Deep groove ball bearing

CF20B

2

JapanNSK